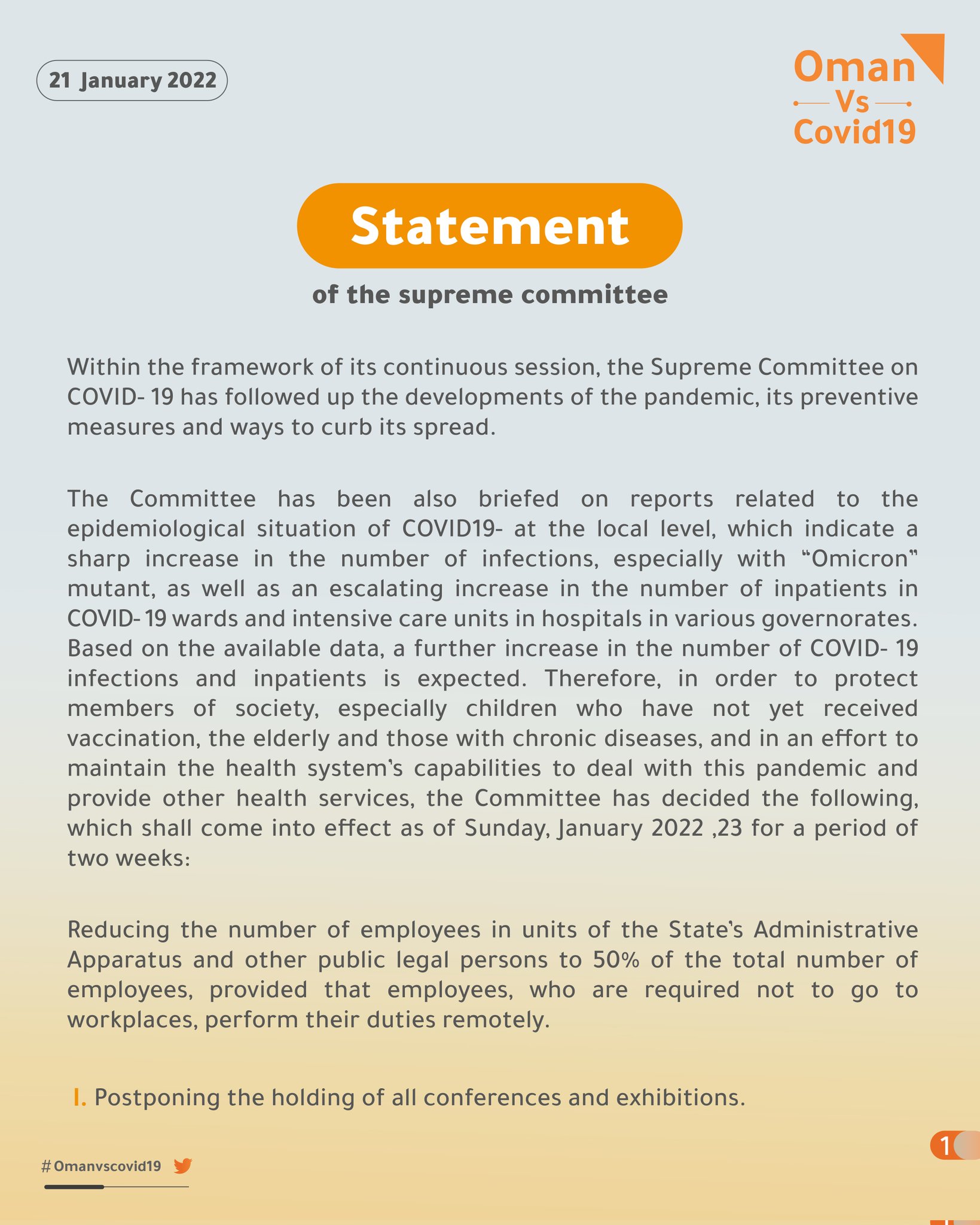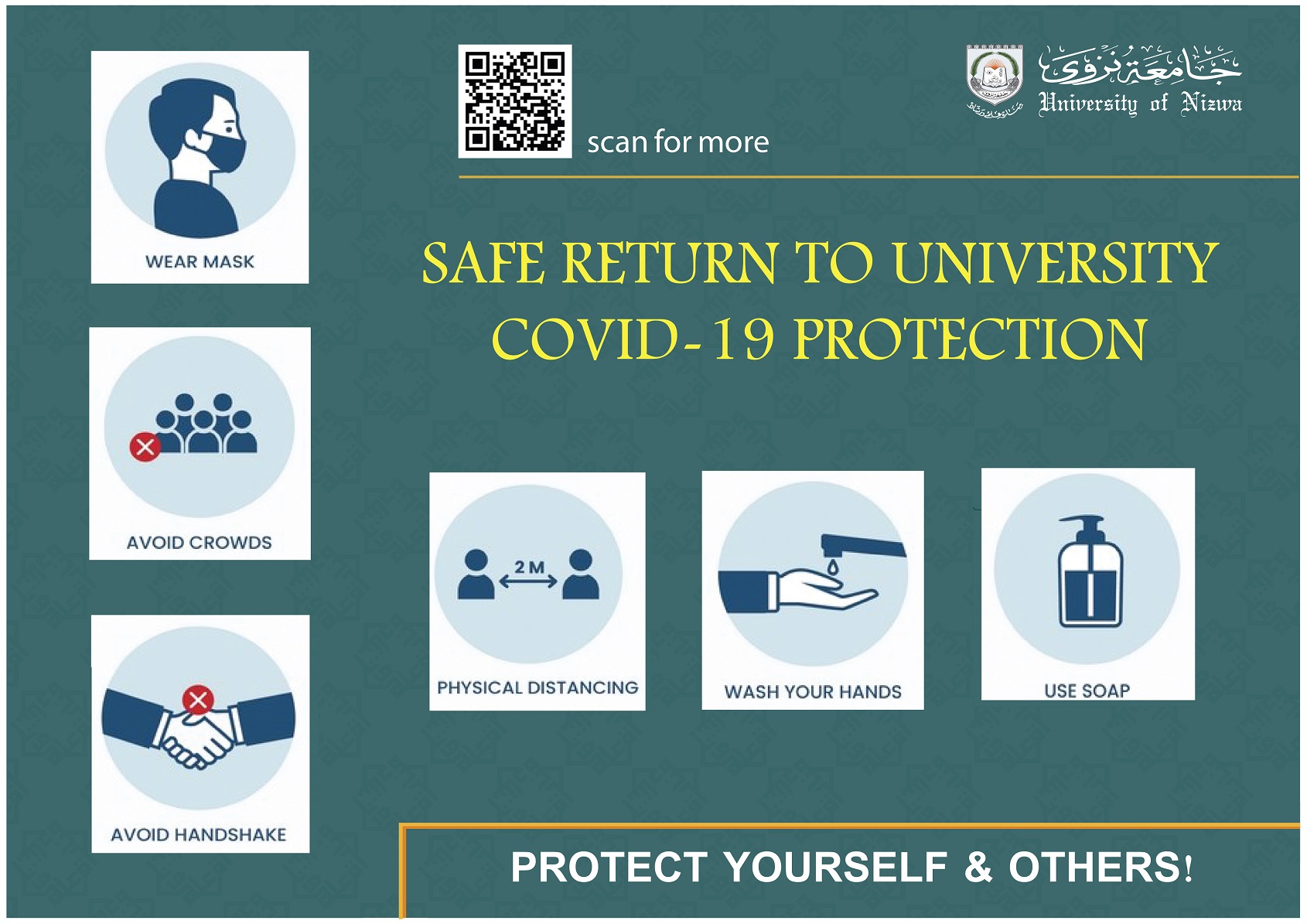 Coronavirus(COVID-19): Guidance
The following are the guidance about Covid-19 that MUST be applied to safeguard the University community while ensuring that the University can effectively operates without disruptions. These preventative measures are compatible with the guidance provided by the Supreme Committee, Ministry of Health, Ministry of Higher Education, Research and Innovation.
The compliance to this guidance is everyone's responsibility.
General Guidelines for campus attendance
Ensure getting at least one dose of the COVID-19 vaccine to grant an access to the University campus (two doses will be mandated from 15 October 2021).

Undergo temperature screening at the University main gate and where requested.

òStudents and staff experiencing symptoms such as fever, cough, and breathing difficulties MUST avoid contacting others, and should report to their immediate supervisor, and seek a medical advice.

Keep physical distancing.

Wear face mask while in campus.

Wash hands often for 40-60 seconds every time.

Use hand sanitizers.

Carry out a regular sterilization for used surfaces such as desktop, phone devise, door handles, stair barriers, tables and elevator buttons.

Maintain good indoor ventilation.

Avoid crowded places and attending social events.

Avoid any sort of physical contact such as shaking hands,kissing, etc..

Be informed of the up-to-date information related to COVID-19 pandemic.

Restructure offices layout to ensure reasonable physical spacing.

Maintain sufficient physical distancing while attending restaurants, lecture halls, labs, staff rooms, buses, supermarket and mosque.

Avoid sharing office stationeries with coworker or other students, and if necessary, sanitize them before and after use.

If you were in contact with a suspected or infected case inform your immediate supervisor.

Report confirmed and suspected COVID-19 cases to the University Health and Safety Office.

Familiarize yourself with the University work regulations and sick leave policy and contact University Human Resources Department if you need further information or require in this matter.




Contact University Health and Safety Office for any further information or assitance.
Guidance on attending classes, labs, and study events
Keep suffieceint physical distancing while entering to the teaching venues.

Wear face mask while attedning teaching sessions.

Do not share personal belongings with others

Students with symptoms of fever and cold should inform their teacher befor getting into the classroom.

Drink plenty of water to keep yourself hydrated.

Ensure sufficent physical distancig while getting out of the classrooms.

If a student experiencing symptoms, such as cough, fever, and loss of smell, should be advised to attend the sick pay clinic/health center for medical opinion. Student should not return to class unless authorised by the sickpay clinic/health center.
Guidance on conducting meetings
Minimize in-person meetings as possible and encourge virtual meetings.

When in-person meetings are conducted, attendance should be limited to the concerned faculty and staff with adherence to this guidance.

Maintain good room ventilation.

Staff having symptoms like fever, cough, and running nose should be exempted from attending the in-person meetings.

Meeting rooms should be prepared with napkins papers, hand sanitizer and face masks.

Avoid sharing office stationeries during the meetings such as papers, pens, etc.,

Keep a record of attendants' details.
Guidance on campus mobility.
Avoid unnecessary mobility and social gathrings.

Avoid Group Prayers at the University mosque or elsewhere until further notice is issued by the official authorities.

Avoid delivered meals at the workplace.

Avoid overcrowding at toilets, maintain hand washing, apply hand sanitizer, and use paper napkins instead of dryer machines.

Comply with the allowed number of seats at the university restaurant / cafeterias and use parcel meals as an alternative.

Comply with the allowed number of seats on the bus while coming and going from the university and avoid consuming food and touching surfaces unnecessarily.

All Units/Departments MUST guide their visitors to this guidance and ensure visitors compliance to it.

Visitors MUSTshow a proof of having COVID-19 vaccin.

The setting of the visitors reception lounge MUST ensure physical distancing, proper ventilation and availability of hand sanitizer.
Guidance for Campus visitors
Visitor MUST not enter to the University campus unless vaccinated.

Visitors should be instructed to wear face mask, maintain social distancing, avoid crowds and gatherings and to leave the campus soon after completing their vist.
Guidance on use of student dorms
Dorms main entrance should be equipped with body temperature screening devices.

Students MUST avoid social gathering inside rooms, while eating, and on the walkways.

Visitors MUST be denied from entering students' dorms unless for emergency.

Food delivery should be avoided from external restaurants. In limited cases, necessary precautionary measure should be applied while receiving delivered food.

Ensure proper ventilation of student dormitories.

Ensure availability of an isolation rooms in case of confirmed cases identified with Covid-19

A record of isolated cases should be maintained.
Guidance for Service Providers
Service providers, including the University of Nizwa Investment Fund (UoNIF), should ensure that their staff health and safety by following the setted measures and precautions and keep them updated by all new guidelines and instructions.

Service providers MUST be vaccinated with a registered Covid-19 vaccine prior to their entry to the University campus, (having two doses will be necessary by 15 October 2021).

Face mask and gloves must be worn while attending the campus and providing the services.

Under take body temperature screening at the University main gate and where requested.

Service providers with symptoms such as fever, coughing, running nose, and breathing difficulties Must NOT entertain customers and should seek a medical advice and contact their immediate supervisor.

Social distancing MUST be always maintained.

Replace any damaged face masks and hand gloves immediately by a new one.

Ensure availability of isolation facility for the confirmed cases with Covid-19 and maintain an isolated record.
Contact numbers
If you have any of the following symptoms, inform your direct supervisor and seek medical advice prior to your home return:
Fever

Cough

Breathing difficulties
University Clinic (Sickbay)

25446601/25446306

UoN Health and Safety Office

Ext: 636

Email: hso@unizwa.edu.om

Email: nasserkindi@unizwa.edu.om

Jana Medical Center

25443311

Nizwa Central Hospital

Ministry of Health Hotline

24441999/1212