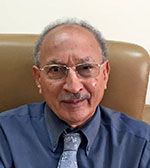 A welcome from the Pro- Vice Chancellor for Academic Services
I am proud and honored to be a founding member of the University of Nizwa(UoN), the second largest and the first non- profit higher education institution in Oman. As a forward- looking university aspiring to be an academic institution of excellence, a strategic objective of the University is to provide a student-centered teaching and learning environment that prepares students for academic success. Further, the UoN is keen to develop as a hub of innovation and research. Towards these aims, the units under the Pro- Vice Chancellor for Academic Support Services play a vital role. The UoN provides excellent library and scientific laboratory resources and has been pioneering in establishing The Writing Center and the Learning Enhancement Center in Oman. The Foundation Institute offers courses in English, Basic Mathematics, Digital Literacy and Life Skills to ensure that students are well prepared to embark on tertiary education. DHAD Institute for Teaching Arabic to Speakers of Other Languages supports the University's goal of global community outreach. The Lifelong Learning Institute is another vital unit of the University that offers its services to employees of Industry and the Community at large. To support national priorities, the Center for Entrepreneurship organizes workshops and activities to nurture students entrepreneurial skills. Last, but not least, academic advisors offer valued guidance to students along their paths to graduation.
It is, indeed, my privilege to be a member of the University of Nizwa and contribute to providing an environment conducive to learning and research as well as a student experience that is enriching and inspiring.
Prof. Mohamed Abdel Moniem Ismail
Pro-Vice Chancellor for Academic Services