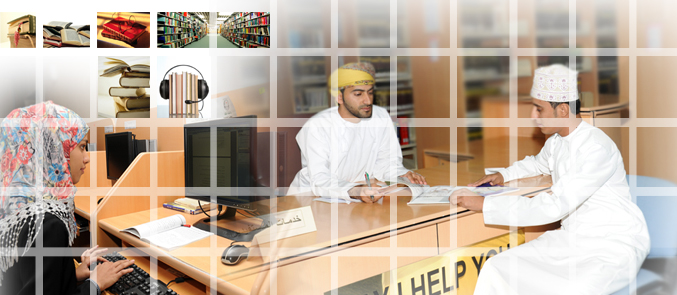 The University Library was established with the official inauguration of the University of Nizwa in October 2004. Presently, the Main Library is housed in Building 21 at the Initial Campus and consists of 3 large Halls. Two Halls provide separate studying facilities for males and females. In addition, the Main Libarary provide study tables conducive to individual studying and for larger study groups in efforts to accomendate student learning needs.
The Central Hall houses Reference Collections, General Circulating Collections, Reference Desk, Circulation Desk, OPACs, Self Check-out Station, and Photocopiers. Twelve (12) computers have also been provided in the Central Hall to provide access to all electronic resources available in the library.
The Library provides service to faculty, staff, students, researchers, and outside users. In its initial stages, the Main Library has been designed to accommodate approximately 100,000 library items to serve the University community. Plans are under way to build a five storey Main Library at the Main Campus in the near future.
Last update date: 12/08/2014