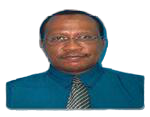 Dr. Ali Khamis Ali
Assistant Professor
Education and Cultural Studies
College of Arts and Sciences
Telephone: (+968)25446200
Extension: 574
eMail: ali.khamis@unizwa.edu.om
Office Location: 5D-7
Time at UoN: Since 2008
Marital Status: ...

Received a Ph.D. in educational administration from the university of Putra Malaysia (UPM) in 2002, M.ED in education administration from the university of IIUM (Malaysia) in 1997, and B.ED in education from the university of International University of Africa (Sudan) in 1992. His research interests are learning organizations, educational leadership, emotional intelligence, organizational trust in education and academic advising.
Academic Qualifications
Doctor of Philosophy, University of Putra , 2002
Teaching Activities
Effective Educational Supervision, This course provides students with approaches, knowledge and skills of effective educational supervision in educational institutions. , 2010-Now
Educational Leadership, The courses exposes students to different leadership theories and approaches. It also gives students opportunities to discuss research in educational leadership in educational institutions, 5 Years
Principles of Training and Continuous Education , Basics of Training
System of Education and Its Administration in the Gulf States, The course introduces students the systems of education available in the Arab Gulf Countries and how they are managed. It exposes the student to understand the systems of education in those countries. Different issues and challenges of education systems that face the Arab Gulf Countries are discussed., 8
Research Activities
- Research Interests
Learning Organizations
Educational Leadership
- Publications
Article:

1. 2019 The Relationship of principals' leadership styles and teachers' professional happiness in basic education schools in Al-Dhahira Governorate in the Sultanate of Oman.
2. 2012 . Academic staff`s perceptions of characteristics of learning organization in a higher learning institution, International Journal of Educational Management, Vol. 26 Iss: 1, pp.55 – 82.
3. 2011 Headmasters` and headmistresses roles in facilitating learning organization in selected primary schools in Malaysia : a preliminary study. , Jurnal Pengurusan dan Kepimpinan Pendidikan, 22 (2). pp. 77-94. ISSN 1511-4147
4. 2011 The Relationships between the Leadership styles of Heads of Departments and Academic Staff's Self-Efficacy in selected Malaysia Islamic University. , Interdisciplinary Journal of Contemporary Research in Business. Vol.3, No 1, pp.940-949.
Faculty Administrative Experience
2017 - 2020: Risk Management Officer - College of Arts and Sciences (CAS)

Managing Risks at CAS

2016 - 2020: Coordinator for Educational Administration Program - Nizwa University

Review of Educational Administration Program

Update your profile